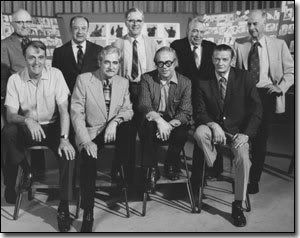 (L-R: Milt Kahl, Wolfgang "Wollie" Reitherman, Marc Davis, Les Clark, Frank Thomas, Ward Kimball, Eric Larson, John Lounsbery, Ollie Johnston)

Ollie Johnston
, the last of
Disney's Nine Old Men
passed away yesterday. He was 95. The following is an article from
Animation World Network
.
Ollie Johnston, the last surviving animator of Disney's famed Nine Old Men, passed away today April 14, 2008. Johnston worked for the Mouse House from 1935 to 1978, working as an animator on such classics as SNOW WHITE AND THE SEVEN DWARFS, FANTASIA, BAMBI and PINOCCHIO. He last worked on THE RESCUERS, a film for which he was caricatured as the cat Rufus.

Along with longtime friend and collaborator Frank Thomas, Johnston co-authored the seminal animation reference book THE ILLUSION OF LIFE, which is used as an animation textbook in schools around the globe. Johnston's friendship and partnership with Thomas was warmly chronicled in the 1995's documentary FRANK AND OLLIE, directed by Frank's son Theodore.

Oliver Martin Johnston Jr. was born in Palo Alto, California, and attended Stanford University, where he met Thomas on the staff of the STANFORD CHAPARRAL humor magazine. Later he would attend the University of California, Berkeley, and Chouinard Art Institute.

He first joined Disney, working on shorts such as MICKEY'S GARDEN and THE TORTOISE AND THE HARE. In 1943, he married Disney ink & paint artist Marie Worthey, who passed away on May 20, 2005.

His lifelong love of trains inspired him to build a scaled railroad and locomotives in his backyard, which inspired the train at Disneyland.

He was named a Disney Legend in 1989, and in 2005, Johnston was one of the recipients of the National Medal of Arts.
Here is another great article from
O-meon.com
.
Ollie Johnston 1912 - 2008
And a few others from
Cartoon Brew
:
Ollie Johnston
Brad Bird on Ollie Johnston
The Disney Company on Ollie Johnston
John Canemaker on Ollie Johnston